Northampton Local Food Tour
Description:
The Northampton Food Tour of Northampton is a 2 hour 30 minute walking tour of downtown Northampton. We visit 7-8 local food producers and specialty shops. Participants taste a selection of locally made specialties that include award winning cheeses, pasture raised meats, artisanal breads, frozen yogurt, handmade pastries, heirloom ciders and craft beers. Discover a thriving local food community in downtown Northampton.
BOOK THIS TOUR
The Northampton Local Food Tour is offered on Friday from 2-4:30pm or on Saturday from 10-12:30pm. This food tour is $48.47 per person and includes the booking fee.
Click on a date to see the tour offered.
Click the tour name below the calendar to purchase tickets.
Details:
Meeting Place: Pulaski Park, Northampton
Minimum tour size: 4
Maximum tour size: 12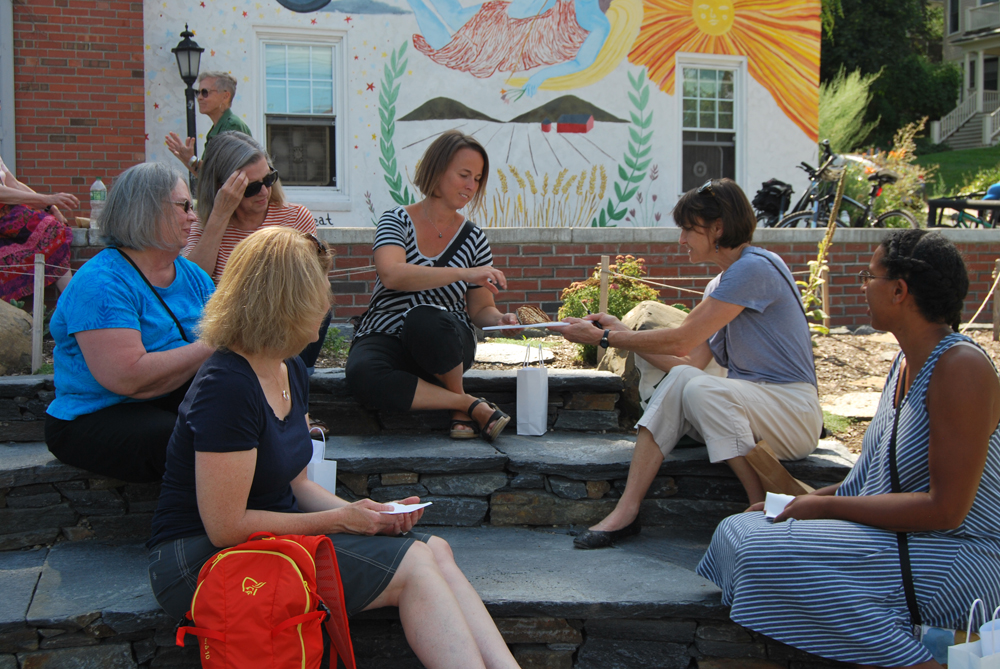 Guests will receive a food destination map, a treat bag and bottled water
Our tours go out in all weather, please dress accordingly
Private tours are available, please contact the organizer
Tour may be cancelled 24 hours before the departure if there are fewer than the minimum number of guests
Please be aware that food samples along the tour may contain allergens. While we strive to be aware of all sample ingredients, please make choices to accommodate any existing food allergies.
Testimonials
We just wanted to share that we enjoyed your Food Tour in Northampton on Saturday very much.  Your  knowledge and choice of the local vendors made this a really fun experience.  We are thinking that we should grab some of our friends and do it again. 
-Brad & Carolyn, VT
Just wanted to thank you again for a fun afternoon! Jim and I enjoyed having a private tour of the Northampton vegetarian food scene. I like how you incorporated the local farming history and local products. We ended up going back to Cornucopia and purchasing a few items.  There was a nice assortment of tastings and I discovered I liked a few things that I didn't think I did.
-Joanne, Pittsfield
A surprise gift from my daughter brought my family on your vegetarian tour of Northampton... We were treated to delicious food at interesting places that we might never have found on our own.  We will look forward to another of your tours in the future. 
-Suzy, PA
Great tour with a really nice group of people.  My goal was to expand repertoire of local exceptional foods available for purchase in small portions.  As both a cheeseaholic and chocoholic this tour was a real eye opener to exquisite locally produced gourmet selections.
- Claude, Northfield, MA
What a great way to spend an afternoon...my son and I really did enjoy your tour and learning so much about Northampton, the city we thought we knew...I will be headed back to many of the places we visited to get some great locally produced products. 
-Molly, MA